Gabriel Augusto Pardo
Personal Trainer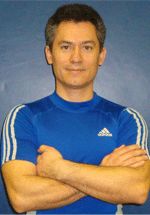 Call today!
GAP Fitness Academy
(480) 969-3405
1209 N. Country Club Drive
Suite 5
Mesa, AZ 85201
Click for Map
Email
Gabriel knew he could really make a positive difference in people's lives.
For the past five years, Gabriel has been improving the lives of many dedicated Arizona residents. He is selective about the clients he accepts into his training program. He admits that the client is responsible for achieving the results, and that it takes an enormous about of discipline and determination. But Gabriel's techniques soften the blow by making workouts fun, challenging, and a bit different each time.
Gabriel earned a college certificate as a fitness instructor from Northern Virginia Community College. Gabriel is recognized as a Certified Personal Trainer by the International Institute of Fitness Professionals, The American Council on Exercise, and the American Institute of Fitness Educators. He also holds a Black Belt Degree in Martial Arts and has earned many accolades in competition.

GAP Fitness Academy; The One Stop Family Fitness Center

Click Here to read Gabriel's complete bio.
Gabriel will help you:
Assess your physical condition and track changes
Set goals
Make a nutritional plan and learn better eating habits
Learn proper strength training technique
Improve endurance
Find motivation
Improve your appearance
Feel better
Improve your health
Gain muscle and lose fat
Tone up
Improve mental alertness
Reach your goals